Why Ducks??
While we love our Navarro Panthers, Duck Fest was a fundraising idea of NEF's 1st President, Kim Mueller. The annual Duck Fest & Rubber Duck Race was first held in Geronimo Creek in 2008 and has since been moved to the beautiful park at Walnut Springs in Seguin. The community "adopts" rubber ducks prior to the event and then attend to see if their little quacker is quick to cross the finish line and win a prize. Duck Fest continues to be a fun fundraiser & community event.
Duck Fest is held at the beautiful Walnut Springs Park in Seguin and includes a rubber duck race, games for the kids, food booths, and entertainment by the Navarro ISD Jazz Band. Duck Fest, is scheduled for Saturday, May 21, 2022 1:00 am to 1:00 pm.
In the Principals' Challenge (Now through May 18), the campus that has the most adoptions (per capita) will win a $3,000 grant for the principal to decide how to use it, and the 2nd place will win $1,500.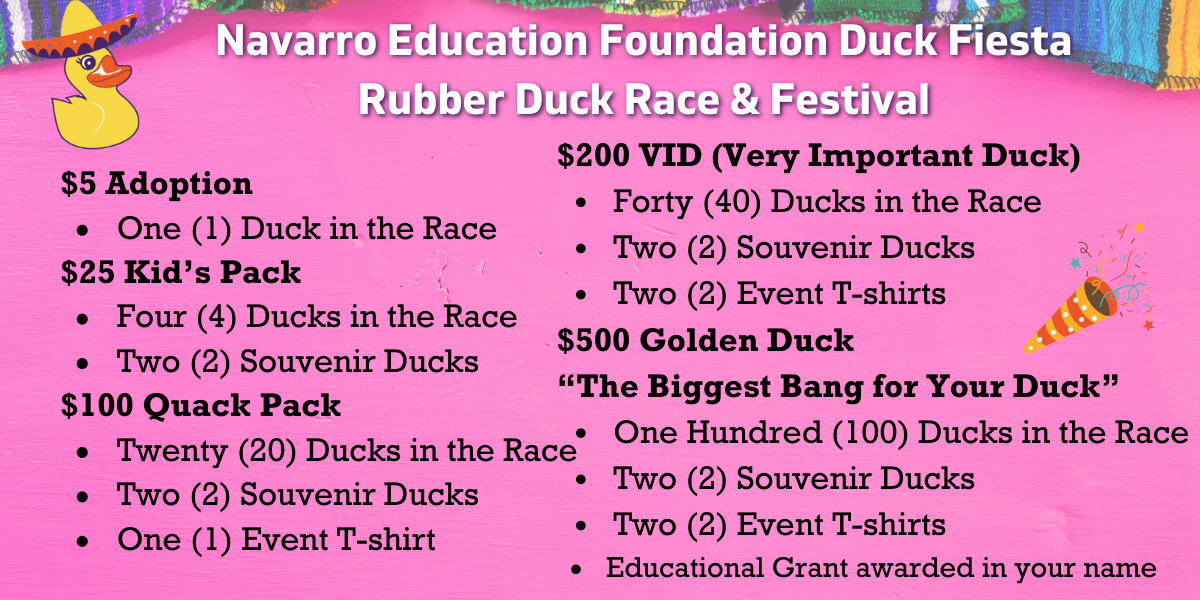 Thank you to EVERYONE who adopted ducks or sponsored our event this year! We were able to raise over $47,000 to go directly back to the kids of Navarro in the form of classroom grants!!!