Student Volunteer Opportunities (Coming Soon)
Industry Partnership Opportunities (Coming Soon)
Navarro ISD Career and Technical Education Home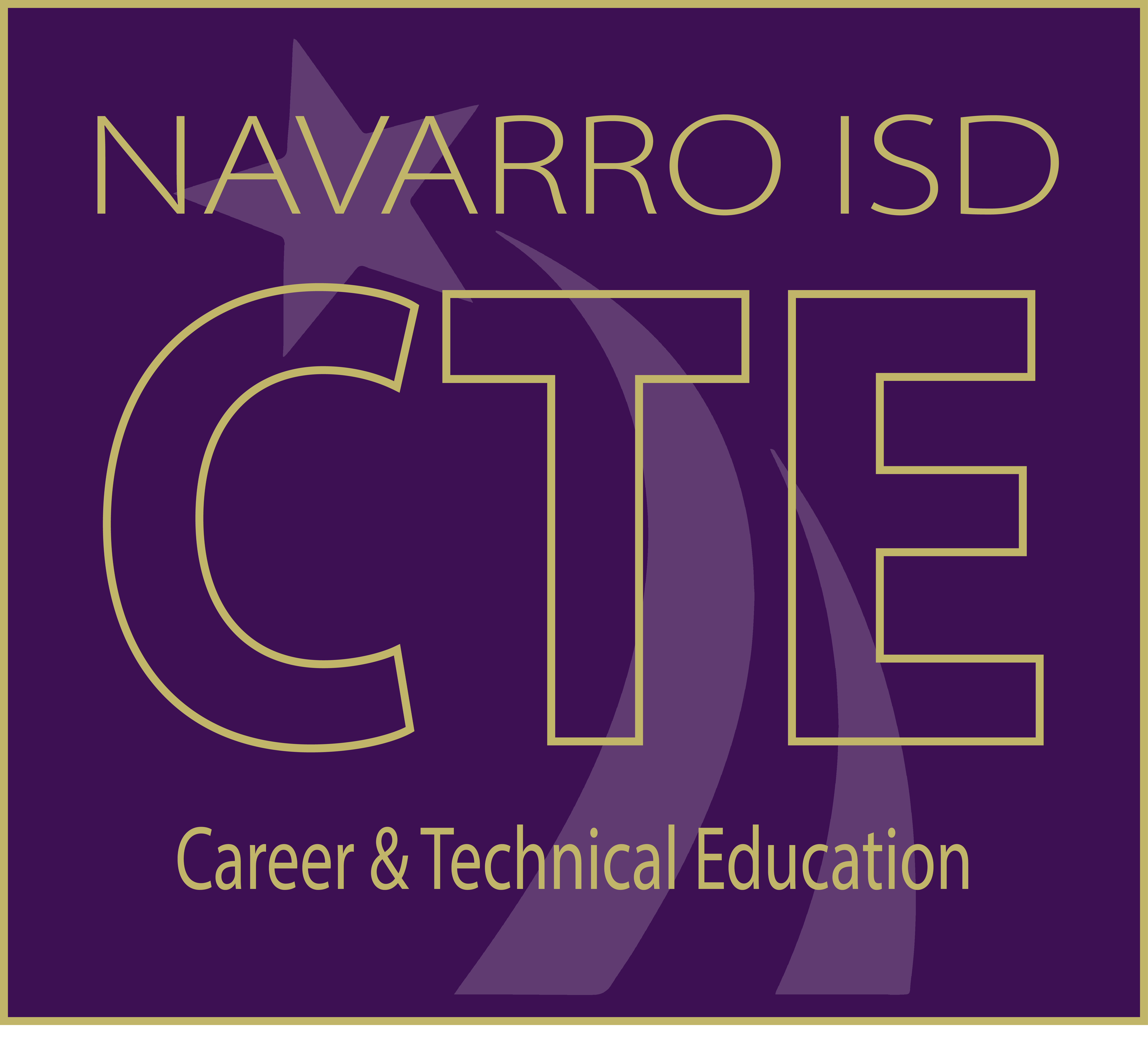 Public Notification of Nondiscrimination
Career and Technical Education
It is the policy of Navarro Independent School District not to discriminate on the basis of age, race, religion, color, national origin, gender, marital status, military/veteran status, disability, genetic information, sexual orientation, gender identity and expression, or other legally protected status in its vocational programs, services or activities as well as its employment practices as required by Title VI of the Civil Rights Act of 1964, as amended; Title IX of the Education Amendments of 1972; and Section 504 of the Rehabilitation Act of 1973, as amended.
Navarro Independent School District offers several Career and Technical Education programs, including but not limited to Business Marketing, Health Science, Cybersecurity, Agriculture, Engineering, Information Technology, etc. Admission to these programs is based on interest, lottery selection, first come first serve basis, age appropriateness, and/or class space availability. Navarro Independent School District will take steps to assure that lack of English language skills will not be a barrier to admission and participation in all educational and vocational programs.
For information about your rights or grievance procedures, contact the following personnel who have been designated to handle inquiries regarding non-discrimination policies: Kathy Peel, Human Resources Director/Title IX Coordinator, E-mail: Kathy.Peel@nisd.us; Janna Smith, Special Education Director/Section 504 Coordinator, Email: Janna.Smith@nisd.us; Phone: (830) 372-1930.
Public Notification of Nondiscrimination
Career and Technical Education
Es norma del Distrito Escolar Independiente de Navarro de no discriminar por motivos de edad, raza, religión, color, origen nacional, género, estado civil, estatus de militar/veterano, discapacidad, la información genética, orientación sexual, identidad y expresión de género, u otro estado legalmente protegido en sus programas, servicios o actividades vocacionales, así como en sus prácticas de empleo tal como lo requiere el Título VI de la Ley de Derechos Civiles de 1964, según enmienda; el Título IX de las Enmiendas en la Educación, de 1972, y la Sección 504 de la Ley de Rehabilitación de 1973, según enmienda.
Distrito Escolar Independiente de Navarro ofrece programas de Educación Profesional y Técnica incluyendo, pero no limitado a Negocios Mercadeo, Ciencias de la Salud, Seguridad Cibernética, Agricultura, Ingeniería, Tecnología de Información, etc. La admisión a estos programas anteriores se basa en interés, selección por lotería, por orden de llegada, edad apropiada y o disponibilidad de espacios. Distrito Escolar Independiente de Navarro tomará las medidas necesarias para asegurar que la falta de destrezas en el uso del inglés no sea un obstáculo para la admisión y participación en todos los programas educativos y vocacionales.
Para información sobre sus derechos o procedimientos de quejas, contacte al siguiente personal que ha sido designado para manejar consultas sobre políticas de no discriminación: Kathy Peel, Director de Recursos Humanos/Coordinador Interino de Título IX, E-mail: Kathy.Peel@nisd.us; Janna Smith, Director de Educación Especial/Coordinador de la Sección 504, Email: Janna.Smith@nisd.us; Teléfono: (830) 372-1930.