BOND CONSTRCUTION UPDATES AS OF SEPTEMBER 2, 2022
Navarro approved AGCM in April to be the Program Manager for the new high school.
May – Board approves the Design Development of new high school.
Navarro ISD continues to have weekly meetings with our Architects, AG/CM, going over plans and making adjustments.
Braun Intertec Corporation conducted a Geotechnical Evaluation on the new high school location
A water feasibility study was conducted and completed in July. The results of the study indicate that Springs Hill can supply enough water to our school
July – NISD, AGCM, City of Seguin City Manager, Guadalupe County Commissioner and Guadalupe County Judge met to discuss possible assistance with Link Rd. for new high school.
June – Board approved to proceed with design and use other bond monies to cover costs
A TIA study was conducted on123. We are waiting on updated results. A TIA study is also being conducted on Link Road. This will help us determine what impact traffic will have on these roads.
35% drawing were completed in August. We anticipate that the 65% drawings will be completed by October.
Architects continue to meet with various departments at the High School to finalize design of their areas. These department include fine arts, Ag, CTE, Technology, Nursing, Athletics and various others.
February 10, 2022
Had a meeting with the Claycomb Architects, Administration, School Board Members, High School Administrators, Counselors, and Nurses to discuss the design options for the future high school and department-specific spaces and needs.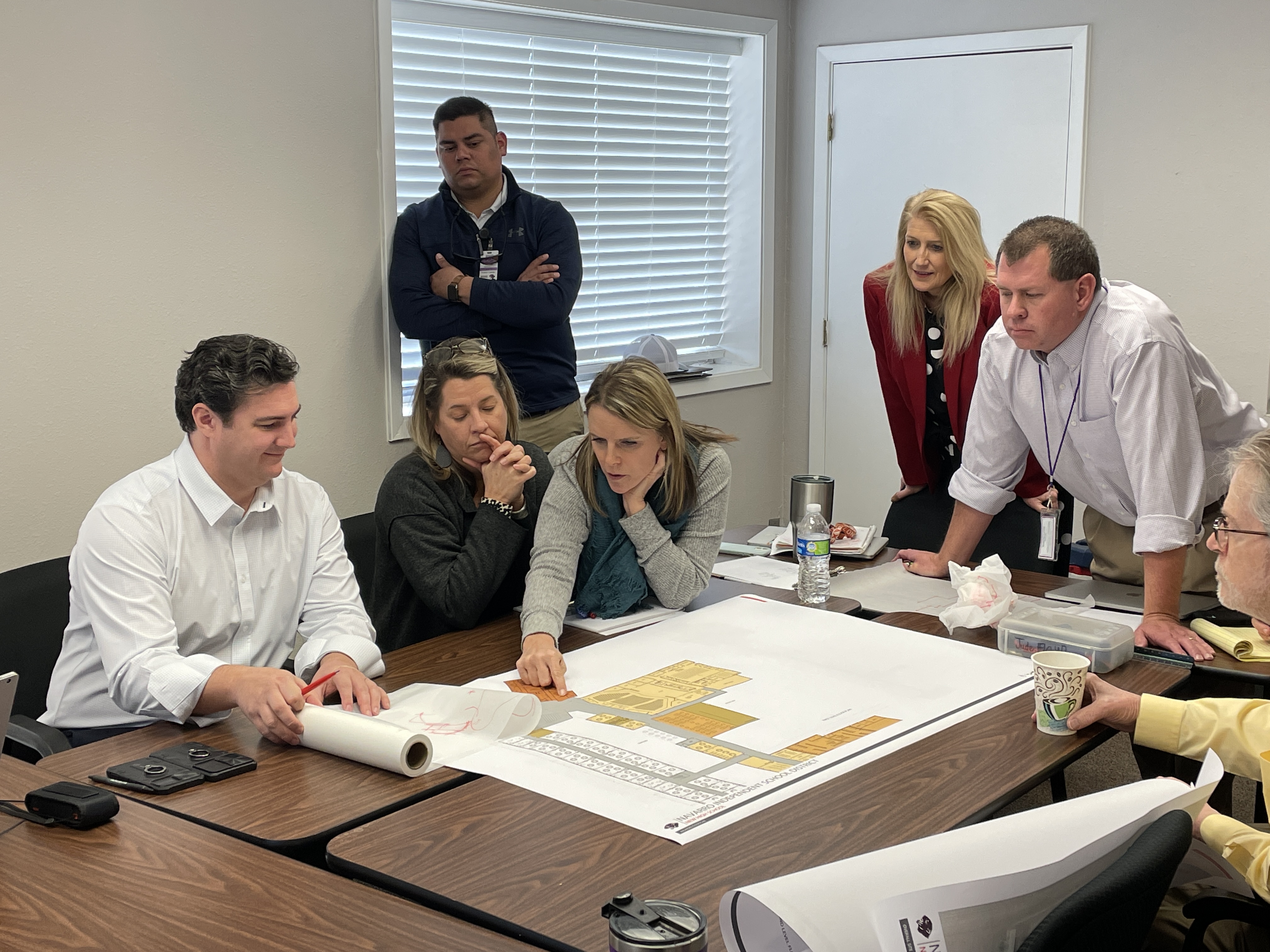 February 9, 2022
Meeting with Seguin City Engineer and other city officials to discuss platting of the High School.
January 18, 2022
Meeting with TxDOT, City of Seguin, and Guadalupe County to discuss traffic patterns, roads, and a traffic light.
January 6, 2022
Design meeting with Claycomb and High School Administration and Athletic Director.
November 17, 2021
Claycomb met with Administration for the first round of design planning. The next steps are to meet with department heads and staff.