Child Nutrition Update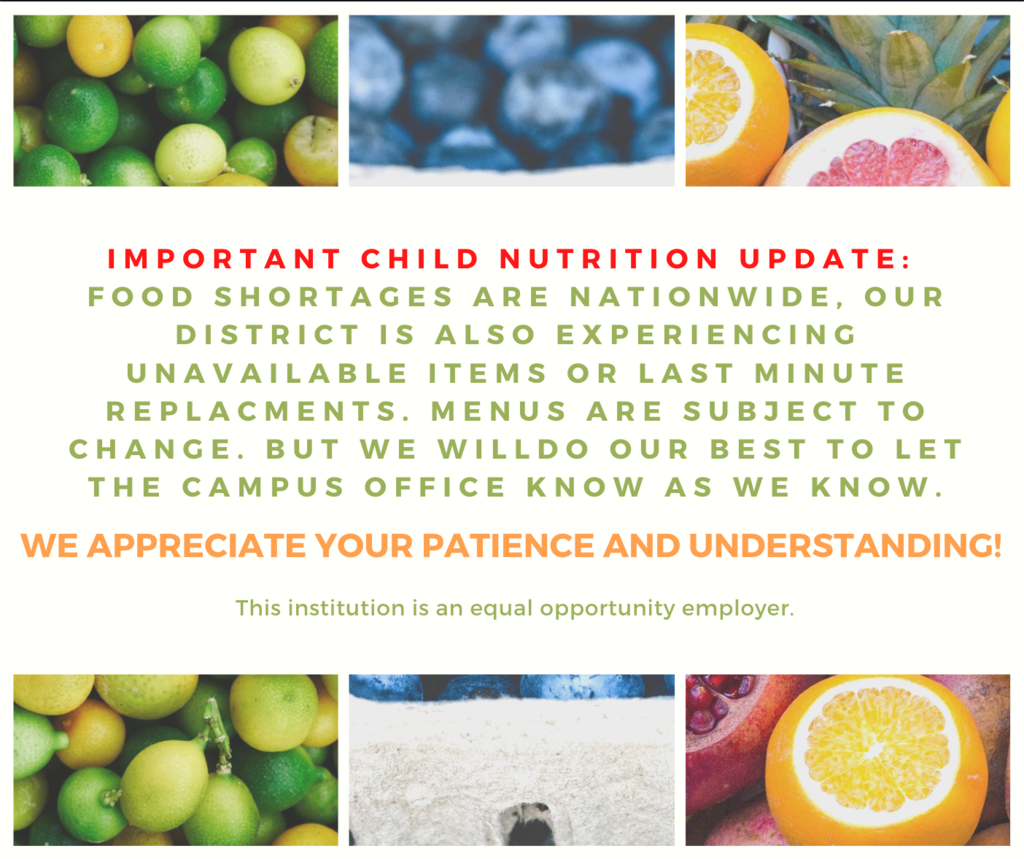 Hey all you Panther fans it's time to get out and clap your hands!! 📣🎉 This year all athletic tickets 7th grade and up will be electronic. To purchase a ticket you can go to the top right hand corner of the Navarro webpage click the link that says Tickets. There is also a Hometown tickets app you can purchase from. Once you purchase a ticket you will receive a QR code that will be scanned at each gate. You may print the QR code or bring it on your electronic device. If you would like to purchase an all sports pass this year or have any questions about athletic tickets please contact Kathie Epp at the High School. Hope to see you at an athletic event this year!

Good evening Navarro parents, your school nurses have sent out a health history form for you to complete for each of your students. Please ensure those forms are returned to your school nurse as promptly as possible. Thank you to those who have submitted a care plan for this school year, if you have not, please do so as soon as possible. Thank you .......... Stay Safe Panthers!

Good evening Navarro parents. Your school nurses have a very important message. If your student has a medical condition that requires a care plan, please ensure you provide your school nurse with this school year's care plan. Care plans can be found on the Health Services page under "Student Health Care/Action Plans". All care plans require a physician signature. If your student will take medications at school, they must be brought into the school by an adult and a medication consent form must be completed. Emergency meds such as inhalers and epi-pens will not be allowed to be carried by your student without doctor orders and a current care plan. All morning meds should be administered at home before school if possible, your school nurse can administer noon doses as prescribed by their physician. All medications must be in their correctly labeled bottle. For more information on medications/care plans or health related services please call your campus nurse or view the Medication Procedures in the Health Services section. If you have an elementary or intermediate aged student that will take daily medications at school, a school nurse will be available at "meet the teacher" to receive your medications.

Reminder from Navarro ISD to complete registration in the parent portal and complete residency verification before school starts. Parent Portal:
https://portals20.ascendertx.com/ParentPortal/login?distid=094903
Contact your campus from 8am-4pm with any questions! Elementary: (830) 372-1933 Intermediate: (830) 372-1943 Junior High: (830) 401-5550 High School: (830) 372-1931

Digital flyer delivery starts Wednesday July 28! Coming soon! Flyers from your school, district and approved community organizations will be sent digitally through Peachjar. You can expect to receive these flyers as images in your inbox where you can easily click to take action. As a reminder, no action is required if your correct email address is on file with the district. On Wednesday July 28 you'll receive a welcome email from Peachjar. In order to ensure delivery of these notifications, please confirm that your email address is on file with the school district and add
school@peachjar.com
to your email contacts. We look forward to providing families with important updates through this new communication tool! For more information check out Peachjar webpage
https://www.nisd.us/page/peachjar

Navarro parents, This is a message from your campus nurses. Please remember to pick up your child's medication by tomorrow, Thursday May 27 before the end of the school day. All meds MUST be picked up, if they are not, they WILL be disposed of by the campus nurse. Thank you

Good morning Navarro ISD parents. The storms that rolled in during the night did not affect the school district and each campus does have electricity and water. We understand that some families may have been affected by the storms during the night and may be experiencing loss of power. If your family is experiencing difficulties preparing for school, students will not be penalized for arriving late. Thank you and be safe.

Good afternoon Navarro Panther Families. This call is to let you know that we are having an early release this Friday, May 21 at 2 pm. Our Boys Baseball team is advancing to the 4A Regional Quarter Finals this week. They will be playing against Canyon Lake on Thursday and Friday at 4:30. Since it is the best of 3 games, if a 3rd game is needed, it will be on Saturday at 4:30. All games will be held at NorthEast ISD Complex in San Antonio. We hope that all our Navarro Panther Fans will be able to come out and support our baseball team. It's a GREAT day to be a Panther.

Due to changes in our our girls softball team playoff schedule, the athletic banquet scheduled for Thursday night has been canceled. It will be rescheduled for a later date. Thank you.

Good afternoon Panther families. We hope that everyone has enjoyed their extended weekend. The district would like to remind all 4th, 7th and 9th grade students that they will be taking the STAAR Writing test tomorrow. Please help our students prepare by making sure they get enough rest tonight and start their day with a great breakfast! We can't wait to see everyone back in the halls tomorrow! Have a great evening.

Good Afternoon Navarro Panther Families! We wanted to let you know that we have added a link on the front page of the district website under Important Notices to a parent survey for you to give your opinion about face coverings in our district for the rest of the school year. The survey results will be shared with the School Board. We are asking that only parents of current NISD students fill out this survey. Stay safe and stay well!

Incoming 9th Grade Parent Nights will be held on Monday, March 8th and Tuesday, March 9th beginning at 6:00 pm in the high school cafeteria. Monday will be for students with last names A-L and Tuesday will be for students with last names M-Z. Information regarding course selection, high school programs, advanced academics, and four year plans will be discussed. This will be an in person event, and a live stream will also be available. The link for the stream will be posted as soon as it is available through Facebook and the Campus Website.

Good afternoon Panther families. I am reaching out today with information about Governor Abbott's Executive Order GA 34. At 1:30 today, Governor Abbott announced an ending to several COVID restrictions in Texas, including capacity and mask orders effective next Wednesday, March 10th. This will be a fluid situation over the next several days as we receive guidance from our local county, CDC, the UIL, and the Texas Education Agency. There are also unanswered questions about what this means for quarantine guidelines and close contact for exposures. We will continue to operate under all current guidelines until new information is received. We will share more details once available. This means that we will continue to wear masks, take temperatures and use hand sanitizer throughout the day. We will notify all stakeholders if current Navarro ISD protocols change. NISD thanks all of our Panther families for your patience and understanding throughout this school year.

Our District was not originally notified about a boil water notice from Spring Hill. After finally receiving some communication the district notified all campuses about the boil water notice. We are making arrangements for limited bottled water at each campus for students and staff tomorrow. The cafeterias will boil water for both breakfast and lunch tomorrow. If parents have bottled water, we encourage them to send a bottle or two with their child to school tomorrow. Thank you for your understanding.

The sun has come out and defrosted the roads. Power and water has been returned to the campuses, therefore Navarro ISD will return to school as normal on Monday, February 22, 2021. Please remind students to bring their devices to school! See you in the morning! ☀️🐾

Good afternoon Navarro Panther families. Due to continued power outages and water supply issues, the district has decided to cancel school for Thursday and Friday. This will allow our maintenance department time to assess buildings and prepare for the return of students on Monday. Please continue to stay safe and warm.

Good afternoon Navarro Panther families. The weather forecast for tonight includes a winters mix. The power company has stated that we will continue to have rolling power outages , therefore the district has decided to cancel school for Wednesday. Please stay safe and warm.

Good afternoon Navarro Panther families. The groundhog wasn't kidding when he predicted 6 more weeks of winter! We hope you are enjoying the beautiful snow while staying safe and warm. Since road conditions are not supposed to improve over night and we will continue to have rolling power outages, the district has decided to cancel school tomorrow. We do recommend wrapping up in a blanket and reading a good book or two. Enjoy your Tuesday off and we will see you on Wednesday.